Want to build a new gaming rig and cannot decide what type of Motherboard you should get? Congratulations, you've found the right place where I describe different motherboards, their features, and why you need to choose one for what you need. This post includes Micro ATX vs Mini ITX vs ATX to decide which one is used for which purpose and how they are different.
However, while choosing the best Motherboard for your gaming PC, you think that the only concerning factor is its size. But hold on, that's not actually true. You will have to consider the primary purpose of your PC building as to whether you are building it for 1080p gaming or casual gaming. It's all on you.
So, let's pull the pieces apart and discuss the main differences between these motherboards. Also, you will be able to know which one you need and for what purpose. Please have a seat and make yourself comfortable because you are going to read a little deeper.
Micro ATX vs Mini ITX vs ATX
Motherboards according to their sizes: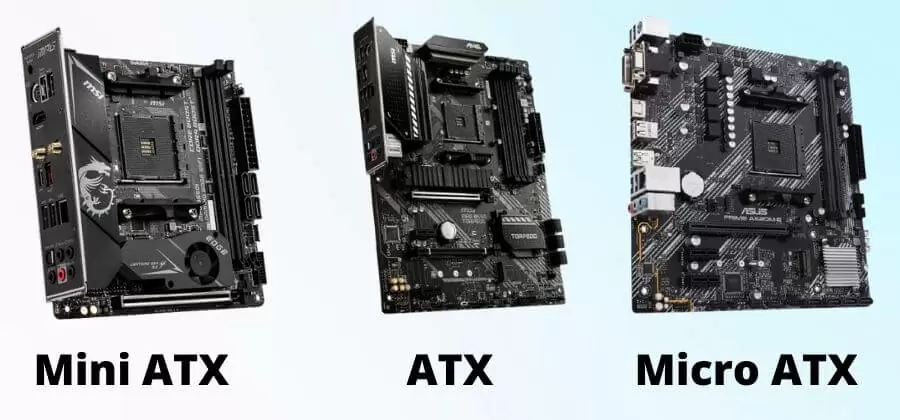 Before you go for the lengthy explanation of these motherboards, please have a mere look at the sizes of these motherboards. This will give you a general idea about deciding which one is relatively larger in size and extra powerful.
Mini ITX: This is the smaller one with a size of only 170 by 170 mm or 6.7 By 6.7
Micro ATX: This is the medium ranged Motherboard with only 244 by 244 mm or 9.6 by 9.6
ATX: This one is the largest one, with a size of 305 by 244 mm or 12.0 by 9.6
These measurements will demonstrate the biggest Motherboard is the ATX, followed by the Micro ATX, and just about the skinniest of them all is the Mini ITX. Intended for workstations, desktop installations, I/O hubs, and Digital signage applications are some of the most common uses for Mini ITX motherboards. That is why it's so important to have a reliable power supply on hand!
The older version of these boards was called "ITX" or "legacy ITX." In contrast, today, they are predominantly called either "Mini ITX" or simply "ITX." Both sizes are very similar in size; it's only that their lengths vary. The reason why they change is because of the arrangement of expansion slots available on both boards.
Moreover, when it comes to building a gaming system, there are a lot of different components needed. Still, the Motherboard is arguably the most important part because it connects all the individual pieces. However, every component – be it a GPU, RAM chip – has a different form factor.
There are different types of motherboards – each one is compatible with a specific kind of component. So, despite their sizes, let's have a look at each of them one by one with their pros and cons. This will make you easily decide which one is best for your particular needs.
Mini ITX—For low-level gaming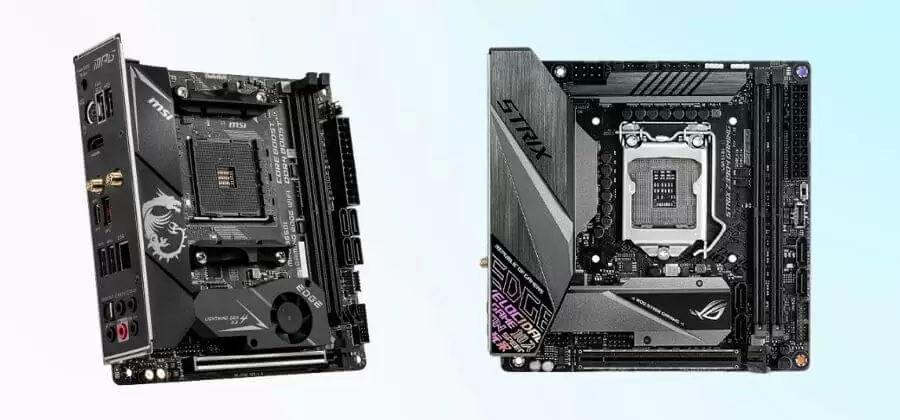 The Mini ITX motherboards ( View On Amazon ) are the tiniest boards and are ideal for anyone who wants a portable PC. These are essentially smaller versions of their cousins but function in an identical fashion inside your computer. The Mini ITX only takes two ram sticks, meaning you can only have up to 32GB of RAM if you put in two 16GB sticks. However, there are usually slots on the board that support the SODIMM RAM sticks.
The Motherboard is the best idea for low-end gaming, but when it comes to running some high-end games, it may not meet your desired expectations. It has only a single PCIe slot which signifies that you have the option of running a single GPU only. This would quickly fulfill your low-end or smaller PC needs, but remember, it is not the one including each and everything in a single pack.
A mini ITX can be purchased with either an i3, i5, or i7 processor. While it can be used in full-sized ATX cases by using a riser card, it also leaves little room for other components. However, it is essential to note that the only difference in the Motherboard is the number of RAM slots it has. There are no other differences.
Mini ITX boards have been used for various applications, including home theater PCs, Media PCs, gaming systems, and remote-control devices.
If you're looking for a gaming motherboard as compact as possible, we recommend the Mini-ITX. This Motherboard's cost is much greater than larger mini-towers. Micro-tower form factors similar to it have caused some confusion. This Motherboard joins the ATX and Micro ATX categories by having much higher prices than these other two. One advantage of this board is its interesting refinement. You'll be able to build a tiny PC rig with it, making it exciting due to its uniqueness of looking like a regular ATX tower. However, this will be almost entirely one-fourth its size!
Pros
✓It consumes less power
✓It provides excellent portability and allows you to install more stuff in your rig
✓The Mini ITX is the latest technology motherboard and stands in the newest generations
Cons
✗It is a little expensive
✗Minimum PCie slots and RAM slots.
✗Not designed for high-end gaming
Micro ATX—For budgeted gaming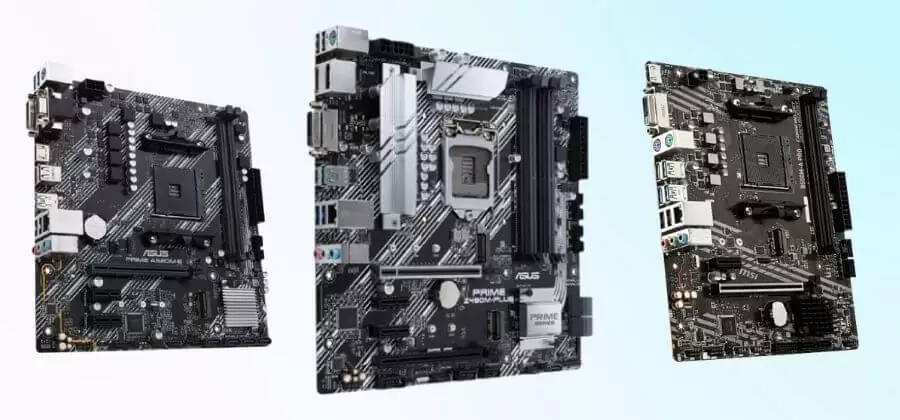 The micro-ATX Motherboard ( View On Amazon ) is an ideal choice if you're interested in building a budget gaming PC at home. The micro-ATX motherboards are basically smaller versions of the standard ATX motherboard that is used by most modern computers.
Compared to other motherboards, micro-ATX motherboards are less expensive overall. Because they only have the required components for building a fast and efficient computer system with 4 RAM slots, all while possessing compatibility with most ram modules and graphics cards available on the market presently.
Micro ATX motherboards do not support multi-GPUs. This means that if you want to build a PC with more than one GPU, this Motherboard is not for you. It is, however, the perfect size for fitting into any sized case.
The smaller size of the Micro ATX creates a restriction of onboard features but allows one to customize more. New Micro ATX motherboards now support dual GPUs, but they cost as much as their ATX counterparts. If looking for a new motherboard with a multi-GPU setup, the best choice would be an ATX model. These motherboards can fit in smaller aircraft cases and provide high performance without new tech components' bells and whistles.
Pros
✓More RAM slots than Mini ITX
✓Best budget Motherboard that provides you speed and performance
✓Large compatibility
✓Available with other models having more PCIe slots for connecting multiple GPUs
Cons
✗The older version doesn't support dual GPUs
✗Newer models are a little expensive
The ATX Motherboards—For High-end gaming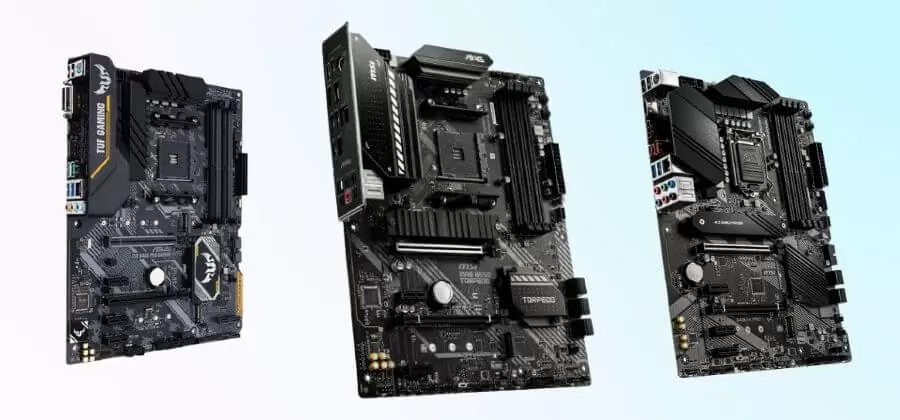 High-end CPUs are built for performance in both gaming and professional applications. ATX motherboards ( View On Amazon ) are ideal because they have so many features that ultimately give you much support for the memory inside the CPU. With each slot able to run up to 32 GB of memory, one can see that these motherboards are hard to top when it comes to speediness in operation.
However, suppose this will be used not just for games or professional work but rather a mix of both. In that case, 8 GB is usually enough for even high-end PCs to run smoothly without worrying about lagging frame rates during gameplay. 8 GB is plenty, but if your personal needs require more, up to 32 GB could be the answer.
Gamers often complain when RAM slows their computers. But luckily, high-performance motherboards like the ATX motherboard allows gamers to add more RAM into their system without sacrificing speed. It should be noted that this Motherboard has 7 slots that support multi-GPU. And other PCIe cards for added enhancements for gaming enthusiasts – a feat not supported by its competitors.
You can identify an ATX board because it'll have 8 pin connector slots and 4-pin connector slots. And various kinds of USB ports and other holes used for other things like LEDs or fans; those little plastic plugs that go into features like audio ports on your Motherboard.
Though priced higher than most motherboards, it is well worth the extra money. It is the choice of gamers who want to future-proof their system without sacrificing valuable real estate or overwhelming themselves with complex technicalities.
Pros
✓Made for extreme gaming
✓Best choice of high-end gamers as well as enthusiasts
✓Offers more RAM slots
✓Has Functionality of supporting multiple GPUs at a time
Cons
✗Too expensive
✗A little larger in size
What Motherboard should you choose for your next build?
Since you know better about different types of motherboards and their mechanisms, let's make you aware of what kind of Motherboard you should choose for your specific PC category. Remember that there are different types of rigs that you can assemble and use in your daily lives.
Therefore, choosing the correct Motherboard is very important. This will save you money and time and make you get your desired performance from your system. Please have a look.
The best Motherboard for building a Desktop Computer:
Suppose you're looking for a great value-for-money motherboard that can be used as a desktop computer. In that case, I'd really recommend the Mini ITX. Although the Micro ATX is much more powerful, it's also tremendous and heavy. So it would only remain a viable option if you were building a PC case from scratch.
The Mini ATX Case is a much better choice. Because it offers almost all of the features, anyone could need a motherboard without being too big, thus making it easier to transport or fit inside another case. The best part about this Motherboard is the fact that despite being small in size, it packs enough power to run any single GPU card under its slot and store up to 32GB of DDR3 memory sticks into its two memory slots. That's double what most other motherboards manage to pack into them!
Despite the price difference between the two, the Micro ATX still offers many advantages. You aren't stuck to a Tower Case like with the giant board, and it still fits into a full-sized tower case if you wish to keep it long-term and not upgrade in the future. The size means that it's excellent for any build, no matter how tight your budget is for the motherboard.
Unfortunately, if you're saving up for an SSD or some serious RAM, this may not be ideal because it only supports 4GB (though the price difference between having 8GB and 16GB may make up for this). Overall, though, we definitely recommend it, especially for anyone looking to get started with PC building but perhaps don't want to invest in a cheap 'beginner' board that will just need replacing twice as soon as they've built their first machine!
The best Motherboard for building a high-end Workstation computer:
If you're looking to build a computer for your professional needs but have more limited technical knowledge of how it works, then an ATX motherboard would be the best fit. Today's editing and rendering requirements call for a massive amount of ram and visual memory that can quickly burn through most people's budgets if they don't have the right equipment.
An ATX motherboard provides you with 7 PCIe slots so that you can easily exchange your graphics cards to meet your memory needs on the fly. It also comes with 4 RAM slots so that you can store up to 32 GB of RAM. On top of all this, this Motherboard is expandable enough to support 2 GPUs, allowing you room for one more upgrade.
Overall, this is best for high-end gaming purposes and non-stop performance results.
The best Motherboard for building a gaming PC:
In this one, if you're a dedicated gamer and looking to build a gaming PC, we suggest a Micro ATX motherboard. This type of Motherboard comes in a wide variety that fits into most cases. Still, the best thing about them is that they support all of today's graphics-heavy games by providing four RAM slots. This can be upgraded with up to 64GB and 4 PCIe slots for future expansions. In many mid-budget gaming PCs, these are the preferred choice. They offer good value for money and are easy to find at any computer parts store nearby.
With ATX, you can go for intense gaming sessions running multiple GPUs at a single time. However, this is only for those having the required budget in their hands. Otherwise, you can just go for a budgeted choice which would be best by building a gaming PC on Micro ATX.
Frequently Asked Questions
Is Mini ITX better than Micro ATX?
Mini ITX and Micro ATX are both form factors for computer cases and motherboards. Both are used in different types of computers. It's good to know that some people prefer Mini ITX or Micro ATX, and some prefer the other.
The decision for which one you should choose for yourself depends on several things. First, you must consider how many expansion slots you want. If you're going to add a graphics accelerator, sound card, network adapter, or TV tuner in the future, you may want to go with the Micro ATX.
Another thing to consider is the size of the computer chassis. Some people want the smallest size and, in that case, the Mini ITX. And lastly, you should consider how durable and stable the computer will be. If the computer will be stationary and will not be moved around that often, then Micro ATX is a good choice.
If you want a computer that you can take anywhere with you, Mini ITX is the way to go. And in case you want to know, the power supply is the same for both. The Micro ATX version has a smaller footprint than the Mini ITX, though. And Micro ATX is sometimes called Mini ATX or Half-Size ATX, or Baby ATX.
Is Mini ITX the same as Micro ATX?
No, the mini ITX motherboard is not the same as the micro ATX motherboard. They both vary in their features, sizes, and expansion slots. Mini-ITX is a motherboard form factor standard with a length of about 17x17cm. This is smaller than the ITX motherboard, approximately 17x17cm, but more significant than the Micro-ATX Motherboard, about 12×9.6cm.

A micro-ATX motherboard is an excellent choice for a great gaming PC build, especially considering it's a lot easier to find a micro-ATX case. The most obvious benefit of a micro-ATX motherboard over a mini-ITX is that you'll have more expansion options with a micro-ATX motherboard. For instance, a micro-ATX motherboard lets you add more memory, add another video card and add more ports.
Is Micro ATX as good as ATX?
Although some may offer this feature, the CPU voltage will not be adjustable on most Micro ATX motherboards. Micro ATX is still a good motherboard from a known manufacturer. However, it lacks some of the features of an entire ATX motherboard. Also, the peripheral connectors are limited. For example, most Micro ATX motherboards only have two or four USB ports. In contrast, many full-size motherboards have more than twice this number.
What is the difference between Micro ATX and Mini ATX?
Micro ATX is a smaller version of the regular ATX motherboard. It has the same features as a standard ATX motherboard but is much smaller. It can be placed in a minor case and doesn't take up much space. Mini ATX is a much newer version of a small PC motherboard. It can fit a lot of stuff into a small space.

These days, most people use this board for their home theater PCs. Some have used them for their gaming PCs as well. There is also a FlexATX motherboard, which is a mix between Mini and regular ATX. It's a lot smaller than a Mini ATX motherboard but a little larger than a Micro ATX.
What are the two main differences between an ATX and a micro ATX board?
The main difference between an ATX and a micro ATX is the size. The ATX measures 12 inches by 9.6 inches and is used for standard desktop computers.
The micro ATX measures 9.6 inches by 9.6 inches and is designed for slimline and small form factor cases.
Typically, micro ATX boards support most of the features of ATX boards, and they usually share the same processor sockets and memory sockets.
However, the micro ATX board has fewer expansion slot options and more miniature power connectors than the ATX board.
One last difference is that ATX boards use a 24-pin and 4-pin 12V power connector, and the micro ATX board uses a 24-pin and 4-pin power connector.
Is micro ATX smaller than mini ITX?
Micro ATX is a more minor motherboard specification in the ATX family. The ATX specification for motherboard size is 185.6mm by 244.4mm. Micro ATX is shorter by about 36mm at a size of 161mm by 170mm. Mini ITX, also known as micro ATX, has a size of 170mm by 170mm, making it slightly smaller than micro ATX.
Summary:
After reading about the differences between Micro ATX vs Mini ITX vs ATX, I can ensure that you will have no problems building the PC of your dreams. There is nothing that is not understandable between these models. This is because all of these motherboards are being used by many gamers like you on a daily basis. So, I can make it more accessible now than before to build your own PC with the required Motherboard.
At last, this was all for today. If you have any queries or questions to ask. Please let us know through the comments. Take care of yourself and see you soon on another one. Have a nice day!