Today, almost all PCs and laptops use graphic cards. A Graphics card is a device that helps to supply images for the display. Let's discuss this in brief.
It is an expansion card that usually plugs into the computer's motherboard and provides instructions to the CPU on how to properly render graphical images for display. Graphics processing units, which are built into many modern processors, essentially do the same thing as stand-alone graphics cards, but they are able to handle increasingly demanding graphical processing tasks by using their integrated cores rather than having to rely on a separate graphics card.
The main components of a typical desktop graphics card are processor cores, memory modules (VRAM), video connectors (DVI or HDMI), and cooling systems. The more powerful the GPU of a given model of the graphics card, the higher its performance will be when rendering 3D models in modern resource-intensive applications like video games. Many gamers tend to buy high-end graphics cards like RTX 2060 because they want to leave little chance when it comes to performance.
What does a graphics card do?
Graphics cards use specialized RAM and processors in order to produce high-resolution images much faster than a computer system's own CPU. A powerful graphics card can enhance PC performance by taking some of the load off of the main processor. In addition, many models support multiple monitors for displaying information from different sources simultaneously.
Where does a graphics card fit?
A graphics card usually fits into the PCI or PCIe or some other slot. There are different types of slots depending on what type of motherboard you have.
What is the difference between a dedicated and an integrated graphics card?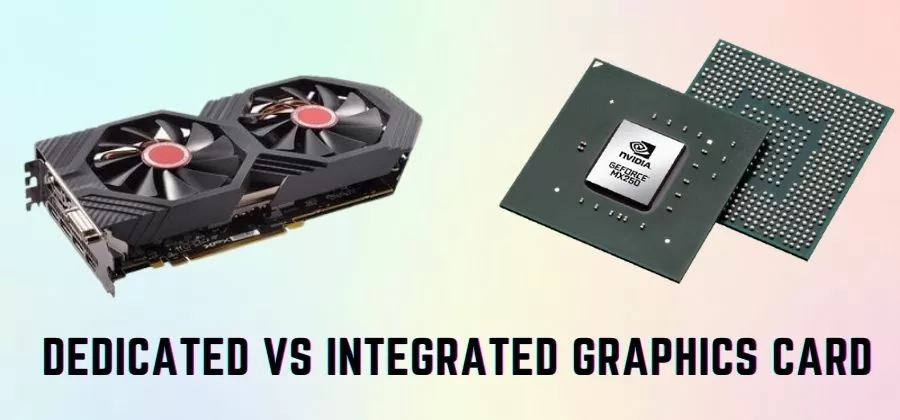 Graphics cards come in two varieties: dedicated and integrated. Dedicated graphics cards use their own video RAM, processors, and power supply, whereas integrated GPUs share these components with the computer's CPU and RAM. Dedicated graphics cards often require more power than integrated ones; they also tend to be better at displaying extremely high resolutions such as 4K.
What is a PCI graphics card?
The PCI (Peripheral Component Interconnect) bus is an internal computer expansion slot that allows devices to attach to the motherboard. A PCI graphics card uses this type of connection, as opposed to the PCIe bus which is used for newer cards.
What is a PCIe graphics card?
PCIe (Peripheral Component Interconnect Express) connectors are faster and further reaching than their older counterpart, the PCI connector. PCIe video cards use this fast connection rather than the slower PCI interface. Since PCIe graphics cards transfer data more quickly and require less power than their PCI counterparts, they offer better performance and visual quality at lower resolutions. What's more, many modern motherboards lack a dedicated AGP slot, meaning that PCIe is your only option if you want to use an add-on card. What kind of memory does a graphics card have?
Today, all video cards come with their own VRAM (video RAM). This is different from system RAM (which any random computer component can share) and significantly increases performance by storing images in the ready for use rather than retrieving them from the main memory every time they are shown on screen. The size of VRAM varies depending on the make and model of each graphics card; however, it generally ranges between 2MB and 8MB. Some GPUs come equipped with GDDR3 or GDDR5 storage instead, which still offer faster speeds than regular VRAM. Both GDDR3 and GDDR5 memory types are about twice as fast as the older GDDR2 standard.
Why do you need one?
Graphics cards are needed in most computers since the computer's own graphics processor (CPU) is not powerful enough to display complex screen graphics in real-time. A good graphics card can also be used to connect additional monitors for an expanded workspace.
How much does one cost?
Prices vary depending on the type of card, with lower-end cards starting at around $25 and high-end models costing several hundred dollars. Some types of GPUs may need additional power connections; older models require lots of cooling fans, which increases cost; others are too big to fit inside a compact case or under standard desktops. How well your new GPU performs is affected by its resolution and how many frames per second it was designed to handle. High frame rates are needed to make games look smooth and for virtual reality experiences.
How long does a graphics card last?
Graphics cards can vary in life expectancy, but the expected lifespan is typically around five years or more before needing an upgrade. If your computer becomes obsolete before that time, it may be worth investing in a newer model with a better graphics card.
How do you upgrade a graphics card?
Upgrading or replacing your GPU is often as simple as inserting an older one into the correct slot. More complex cards will need to be connected to power sources and possibly cooling fans before being turned on. Some types require the computer's BIOS settings to be changed first, which means lots of screwdrivers and some command line work.
How to pick the right graphics card for your needs?
Finding the right graphics card usually depends on what you hope to do with it. Higher-end cards are needed if you want great performance for big title games like Fortnite, GTA V, etc, or other applications that can take advantage of advanced features like VR-ready GPUs and higher resolutions. Dedicated cards demand more power, so their performance is affected by the rest of the computer's capabilities. Lower-end cards are generally better for office work and browsing, but they may also be a good choice if you don't want to pay for additional features you may never use.
Choosing a powerful graphics card with lots of extra features might not be worth it if your PC can't handle them or you will never need them. However, buying a top-of-the-line model may seem like overkill when all you do is send emails and edit documents on your phone. In this case, it makes sense to buy an entry-level model and upgrade later if necessary.
You also should consider how much money you want to spend on a GPU, be it $25 for a basic model or several hundred dollars for the best models. This is especially important if your computer is not powerful enough to use an advanced GPU: buying a high-end model would mean spending more than you should. Computers go obsolete quickly these days, so you should also think about when your current one might stop being compatible with new graphics cards.
Types of graphics cards in computers: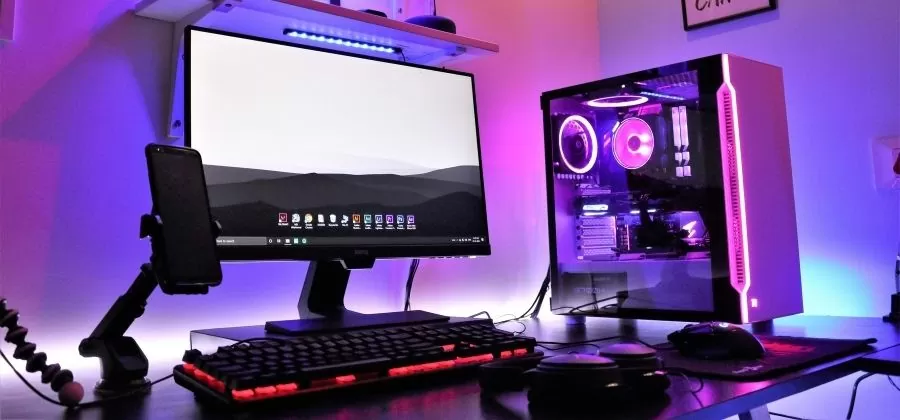 Here are some common types of graphics cards:
Integrated Graphics (or shared memory):
This type of card is built into the motherboard and shares its bandwidth with other components. Many chipsets come with an integrated GPU that can be used as a secondary display, but it's not powerful enough for gaming or high-resolution tasks like video editing. Integrated GPUs are also called "on-board" graphics or shared memory.
Discrete Graphics:
These cards feature their own processor cores and dedicated VRAM, allowing them to run stand-alone without having to share resources with other components. Discrete GPUs can be used as primary display chips and also support multiple displays.
APU Graphics:
This type combines a CPU and GPU on the same die using AMD's "Fusion" architecture. APUs are usually found in budget laptops, older desktop PCs, and high-performance all-in-one models. When it comes to performance, they're often worse than dedicated cards but offer better energy efficiency and support DirectX 12 features like asynchronous computing. Because of those limitations, APUs aren't very common today and can't be used as primary display chips. They work best as secondary GPUs for HTPCs or office computers with multiple monitors.
At a Glance:
The best graphics cards of 2023
The top graphics card is currently Nvidia's Titan V, with a single GPU containing 5120 CUDA cores and 12GB of HBM2 memory. However, you're here to learn about the best graphics cards of 2023, which could potentially feature up to 32GB or more memory! That much memory is required for 4k gaming at 60 frames per second without an integrated GPU.
But Nvidia's Titan V ( View On Amazon ) is not the only one that is the best in the market. There are a lot of other GPUs available that you can consider. However, it totally depends on your requirements whether you're planning to build a gaming PC that could play the hottest games on 4k resolution or you just want to play casual games. Furthermore, it also depends on your pocket. Here are some of the best gaming GPUs available if you're planning to build a 4k gaming PC, or if you already have one and want to upgrade.
ZOTAC GAMING GeForce RTX 3090
Best GPU for 4k and 8k Gaming
SPECIFICATIONS
Brand: Nvidia ZOTAC | Boost clock: 1695 MHz | Weight: 5.01 pounds | Dimensions: 17.01 x 11.61 x 3.9 inches | Max Resolution: 7680 x 4320 | Recommended power: 750 watt | VRAM memory: 24GB GDDR6X | Power consumption: 350 watt
Pros
✓GPU performance to beat
✓VR Ready
✓Up to 8k gaming performance
✓RGB lightning
Cons
✗Extremely expensive
✗Very large
✗It makes a little noise, but it's nothing excessive
Unleash the power of real-time ray tracing with the ZOTAC GAMING GeForce RTX 3000-series graphics cards. Powered by the new NVIDIA Turing architecture and the revolutionary RTX platform, the GeForce 3090 provides an incredible new level of realism and performance that lets you tackle the latest titles in their full glory. Based on the all-new Turing GPU architecture and using the cutting-edge 12nm FinFET manufacturing process, the RTX 3090 GPU enables real-time ray tracing and all-new AI and rasterization techniques to enhance and transform your gaming experience.
The graphics card also features a redesigned thermal solution that puts the focus on optimizing performance by reducing noise and temperature. Advanced new graphics and memory technologies improve your gaming experience on the latest titles and future releases. Get the best performance in the latest games and enjoy amazing new levels of realism and fidelity with NVIDIA Turing graphics cards.
MSI Gaming AMD Radeon RX 6600 XT
Best GPU for 1080p Gaming
SPECIFICATIONS
Brand: ADM | Boost clock: 1845 MHz | Weight: 1.95 pounds | Dimensions: 9.7 x 1.9 x 5.1 inches | VRAM memory: 8GB GDDR6 | Recommended power: 500 watt | Power consumption: 350 watt
Pros
✓Value for money
✓You can average 189 FPS
✓Better than an Nvidia RTX 3060
Cons
✗Not good for 4k performance
MSI Gaming AMD Radeon RX 6600 XT graphics card offers a next-generation graphics architecture that raises the bar with innovative technologies and incredible performance. Backed by a 3-year MSI warranty. The AMD RX 6600 Series Graphics Card is a premium graphics solution for an exceptional VR experience. It's engineered specifically to meet the demands of next-generation VR games.
Polaris architecture precisely combines the latest FinFET 14 process technology and AMD's advanced power, gating, and clocking technologies to deliver a superior cool, and quiet gaming experience. This GPU is armed with 8GB GDDR5 memory to drive the latest displays at 1080p and beyond, as well as support for DirectX 12, SuperSampling, and more.
MSI Gaming GeForce GTX 1660
Best Budget GPU for Gaming
SPECIFICATIONS
Brand: MSI | Boost clock: 1830 MHz | Weight: 1.55 pounds | Dimensions: 8.1 x 5.1 x 1.7 inches | VRAM memory: 6GB GDDR5 | Recommended power: 450 W | Output: DisplayPort, HDMI
Pros
✓Better for 1080p gaming
✓Affordable
✓VR ready
Cons
✗Not applicable for 4k gaming
MSI's dominance in the gaming hardware world continues with the GeForce GTX 1660 Gaming X. This card is built upon NVIDIA Turing technology, which is a significant update from the Pascal architecture. It features a 7-phase dual-FET power supply, a custom 12-layer PCB, and a new cooling design. This card is overclocked to boost up to 1830 MHz! This is ready for your most extreme gaming scenarios!
This GPU is the entry-level gaming graphics card you've been looking for. Powered by NVIDIA Pascal architecture, it delivers up to 4x faster gaming performance than previous-generation graphics cards. The performance is enhanced by high-quality graphics cards, which run quietly, coolly, and efficiently. These graphics cards are also loaded with innovative new gaming technologies, making them the perfect choice for all your gaming adventures.
Frequently Asked Questions
Can I upgrade the graphics card on my laptop?
You can. The problem is that for a laptop, the inability to upgrade the GPU is a necessary tradeoff for a laptop's portability. Desktop computers can have a huge variety of graphics cards, meanwhile, a laptop's graphics card is always integrated. There are a few things you can do to upgrade your graphics card. You can, for example, buy a laptop that uses a desktop graphics card. Many laptops use desktop graphics cards, but you need to know all the details of your laptop's hardware before purchasing it.
What is a graphics card used for?
A graphic card is used for graphics processing. It enables the user to edit graphics, images, and photos. Graphic card is used in computers to enhance the display of images, sound, movies, and games. The Graphics Card (GPU) is used for rendering, 3D images, movies, and images. A graphic card enhances the way the images look on your PC.
What graphics card is good for my PC?
First, check the compatibility list to see if the graphics card you want to buy is supported by your computer. The best thing is to also buy a new power supply to support the graphics card, because a graphics card can draw a lot of power from the system. Check to see if your CPU and motherboard support the crossfire or SLI system. Do you have a dual monitor? If so, then get a graphics card that has two outputs, so that you can plug both monitors into the graphics card. You can also get a graphics card that has an HDMI output so that you can plug it into your HDTV. If you're trying to find out if a graphics card is worth it for your PC, then look at the benchmarks that the site you're buying it from has. A graphics card is worth it if it has at least an 80% performance score.
Which graphics card is best for gaming?
At the present time, the new king for 1080p gaming is Nvidia GeForce GTX 1660. The card has 6 GB GDDR5X video memory. It's also cost-effective and won't break the budget. But for 4k gaming, you check out GeForce RTX 3090 Trinity, this GPU is capable even for 8k gaming performance.
Summary:
We hope you enjoyed our article about; what is a graphic card and the importance of graphic card. With this knowledge, we know that you can make the most of your computer graphics by upgrading to the graphics card you need. So what are you waiting for? Order your graphics card today if you're interested in it.