Everyone out there needs a good piece of productivity inside their PC. Some are with more bucks and can build high-end gaming rigs. Others are just like you or me considering an AMD Ryzen 2200g processor (Amazon) to build a system. Isn't it right? Of course, it is. So, if you've made up your mind to build a new computer system with Ryzen 2200g processor and look for the best motherboard for Ryzen 3 2200g, you are absolutely in the right place.
The thing is, Ryzen 2200g is an entry-level processor that can be used to game and stream on Twitch or YouTube. It is the mid-range CPU of the AMD family. It is built on the Zen microarchitecture, which offers faster clock speeds, improved memory latency, and increased efficiency. Moreover, this is also faster than Intel's i3 processors at the same price. It is great for 1080p gaming and streaming purposes.
No doubt, you'll have this processor at a relatively low price, and it makes you a budget PC building guy. However, deciding the right motherboard for such a processor could be a little daunting to do when you've many options available. But don't worry, because we've done all the research and brought some most delicate pieces for you. So, knock yourself and make today's shopping the best by having the best motherboard for your current desires. Let's start figuring out what we've got here for you!
Quick Shopping Tips for Buying the Best Ryzen 3 2200g Motherboard:
Even having 6 motherboards in a post like this could make you confused because you don't know how to find which one is best for you. Being said, even if you're not a tech-savvy person, you don't need to worry. Therefore, let's start talking over those factors. Below, we're going to give you some important shopping tips on choosing the best motherboard for Ryzen 2200g.
The Right Chipset:
You won't be able to run your processor over a motherboard if it doesn't have the right chipset you need. In that case, if you got a processor like Ryzen 2200g, you need to make sure which chipset will fit best with it? On research, it is found that currently, there are 6 chipsets available that are all compatible with this AMD processor. If you go for an entry-level build, you can consider the A320 chipset that will provide you with all the necessary features you need in a motherboard of your choice. However, you might find that the number of ports is lower than the other chipsets we've here.
Therefore, you can go for the B350 or B450 chipsets motherboards are a perfect match for your solid build. You will find these motherboards at relatively the same price. Plus, besides this, there are other considering options as well. You can go for X370, X570, X470, or B550 chipsets for building your current rig. Though these motherboards are a little expensive, they all will give you the value for money you are looking for. Moreover, you can also go for overclocking later with these kinds of motherboards.
The Right Form Factor:
Choosing the right motherboard with the right form factor is also considerable. On the spot, there are 3 form factors for the different motherboards out there. These include the ATX, Micro ATX, and Micro ITX. You can know the difference between these and choose your desired one from the below-described motherboards. The basic thing you can understand is that the ATX is the most powerful, with a greater number of ports, supporting multiple GPUs, and having more RAM slots. The Micro ATX is for building a medium-performing machine with relatively more ports. Plus, the mini-ITX model is considerable for those who don't want much from their system. However, the ITX is a little expensive motherboard in all of these.
Memory support:
In this section, you can either go for a motherboard with 2 memory slots as this is built for entry-level gaming desires. Or you can go for a motherboard with 4 memory slots which is built for more memory desires. This all depends on the budget you've. If you're willing to spend more, you can get a solid and decent motherboard with extra slots. This will let you have the perfect overclocking and more memory capacity for more speedy working.
GPU Compatibility:
If you go for having a gaming machine, you need to narrow yourself down on how many GPUs you are going to install over it. This all depends on a motherboard having the right number of slots. Therefore, you must have to buy a motherboard with a greater number of PCLe ports. This lets you connect more graphics processors with it. In this case, consider the ATX or M-ATX form factor motherboard.
RGB and Cooling:
It's also important to find a motherboard that can give you these features. If you go for a motherboard with RGB blessing, your system will look more aesthetic than your colleagues. So, be nice and decent in this one because this will be your favorite piece in the future.
On the other hand, cooling is also important to consider while building your rig. Make sure that your motherboard has enough support for providing cooler connectivity later on. This is really important.
Our Recommendations: Best Motherboard For Ryzen 3 2200g
| Award | Design | | Retailer |
| --- | --- | --- | --- |
| Best Cheap Motherboard For Ryzen 3 2200g | | | Check Price |
| Best Micro ATX Motherboard For Ryzen 3 2200g | | | Check Price |
| Best B450 Motherboard For Ryzen 3 2200g | Best Pick | | Check Price |
| Best Gaming Motherboard For Ryzen 3 2200g | Staff Pick | | Check Price |
| Best ATX Motherboard For Ryzen 3 2200g | | | Check Price |
| Best Budget Mobo For Ryzen 3 2200g | Budget Pick | | Check Price |
GIGABYTE Cheap Motherboard For Ryzen 3 2200g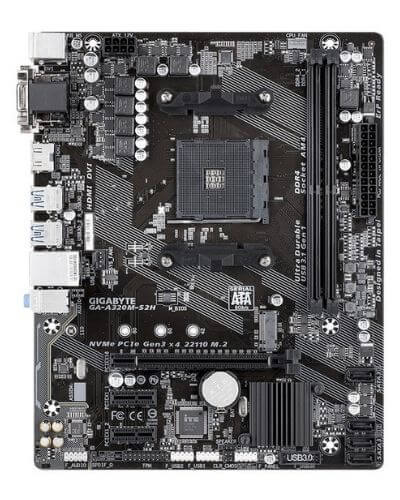 | | |
| --- | --- |
| Brand: | Gigabyte |
| Chipset: | AMD A320 |
| Socket: | AM4 |
| Memory: | 128GB DDR4 |
| Memory Speed: | 3200 MHz |
| Form Factor: | Micro ATX |
For your budget gaming desires and building a PC over a processor like Ryzen 3 2200g, the first best cheap motherboard for Ryzen 3 2200g is this ample piece. This micro ATX motherboard is best for standard gaming purposes and offers you multiple connectivity options. The best to talk about is its size as you'll not be having an extremely large case or a smaller one.
This being the best can easily support AMD Ryzen and 7th generation A series Processors. Being said that, this will easily fit your current rig. This GIGABYTE GA-A320M-S2H motherboard is designed to provide a stable microATX platform for the AM4 socket. A perfect choice for finding the compatibility you need for your current processor. Since it is a microATX motherboard, it comes with 2 DDR4 memory slots and 3 PCIe slots. You can fit multiple RAMs that provide space up to 128 GB.
The RAM speed of 3200Mhz will provide a boost during performing rendering tasks or gaming on speedy processing; it is equipped with AMD Ryzen and 7th generation A-series/Athlon processors to enhance your productivity and multimedia processing efficiency at a great price point. Its A320M chipset is the best A320 motherboard for Ryzen 3 2200g that can easily equip the Ryzen 3 2200g.
Moreover, it is armed with a reliable Dual-channel non-ECC unbuffered DDR4, this S2H motherboard ensures your data is safe from sudden power outages. You will find high-quality Audio features inside this one with an audio noise guard that keeps this motherboard silent when you go for more tasks. Also, you will feel like your rig is not even working at all.
Plus, the Gigabit LAN connectivity with CFosSpeed is something really amazing. This makes you have faster internet when you are playing games online. In addition to providing a high level of performance, Gigabyte Gaming Motherboard guarantees a more enhanced user experience. Overall, this is best under a reliable budget. However, you might not find it that exceptional like the ATX model. Still, it is worth it with the Ryzen 3 2200g processor.
Pros
Low priced motherboard 
Have Micro ATX form factor for good connectivity 
Best with Audio and internet 
Supporting Multiple SSDs 
Best to consider for building a medium performing rig 
Cons
Not designed for extreme duty purposes
ASRock Micro ATX Motherboard For Ryzen 3 2200g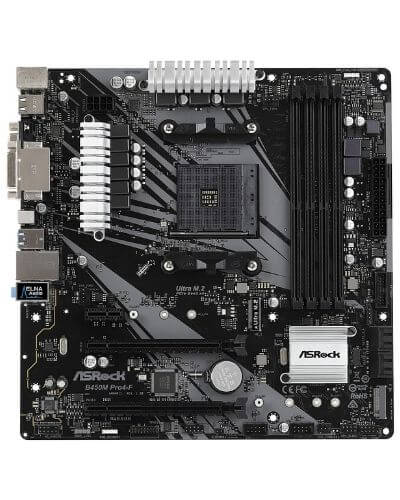 | | |
| --- | --- |
| Brand: | ASRock |
| Chipset: | AMD B450 |
| Socket: | AM4 |
| Memory: | 64GB DDR4 |
| Memory Speed: | 2400 MHz |
| Form Factor: | Micro ATX |
Today's second most loved piece is this another best micro ATX motherboard for Ryzen 3 2200g to come up with a medium rig desired and extensive connectivity. The price level of this motherboard is easily affordable even for a student like you. You don't have to spend much on a motherboard if you are having it for this kind of processor. And for that, this motherboard would fit excellently.
So, say goodbye to the days of the yellow, blinking "Overclock Failed" screen, which was all too common with older AMD CPUs. Because with your Ryzen 3 2200g and this processor, you will never lag or feel anything missing. The ASRock B450M PRO4 motherboard is a great foundation to build a powerful system with a simple yet elegant design. It features the AMD B450 chipset that supports AMD RYZEN Series processors and 7th Gen A-series/Athlon processors for socket AM4.
This promises to deliver fantastic system performance with exceptionally low power consumption. That exceptional performance is promised by its 9-phase power design that is super amazing. With its multiple water-cooling support, you can add an additional CPU cooler inside it. This will make your system run efficiently while performing high-end tasks. It is designed with a 12-phase power supply for CPU and memory, which means you can go for overclocking with its solid performance and enhanced capability.
The slots are more in numbers, and now, you can connect anything with this M-ATX form factor. It comes with 4 RAM slots providing you with the capacity to have RAM up to 64 GB and with an ample DDR4 speed of 3200Mhz. However, this support is not that great compared to the other motherboards with 128GB capacity, it is still worth it with the Ryzen 3 2200G processor.
It also supports the processors with onboard graphics. Plus, it features a PCIe 3.0 x16 slot running at x4, a PCIe 2.0 x16 slot running at x4, and two PCIe 2.0 x1 slots. This makes this motherboard a great choice for somebody like you looking for extended chances of connecting multiple devices at a time. So, what is taking you so long man?
Pros
Multiple ports inside one motherboard
Good for the price range 
Multiple options for fitting coolers
Medium-sized good performance 
You can go for overclocking 
Cons
Memory support is a little low
MSI B450 Motherboard For Ryzen 3 2200g
Best Pick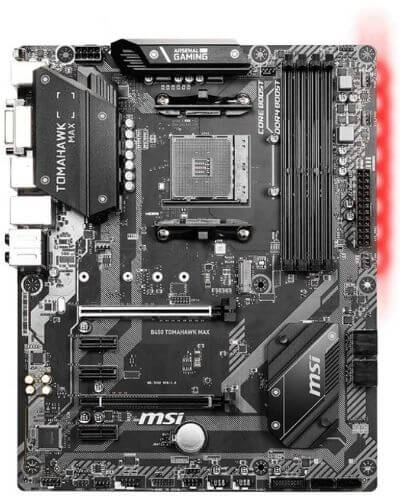 | | |
| --- | --- |
| Brand: | MSI |
| Chipset: | AMD B450 |
| Socket: | LGA 1248 |
| Memory: | 64GB DDR4 |
| Memory Speed: | 3600 MHz |
| Form Factor: | ATX |
The Chipset is the most desirable thing to look at if you're going to have a motherboard for the Ryzen 3 2200g processor. There is no doubt that there are other things, but if the chipset is done, you are good to go with that particular motherboard. Therefore, this motherboard with a B450 chipset easily supports your current processors. Above that, it is in a considerable range and provides all the features you need to maintain your machine.
If you are looking for a motherboard for your Ryzen 3 2200g, the MSI B450 Tomahawk MAX might be just what you are looking for. This ATX form factor motherboard is specially designed to provide solid performance despite being extremely reliable, stable, and durable. Being an essential addition to your PC, the motherboard is compatible with AMD's Ryzen processors, just including your current one.
Supporting up to 64GB of DDR4-SDRAM with dual-channel, the B450 this motherboard is fully optimized to support DDR4-SDRAM. This best B450 motherboard for Ryzen 3 2200g is slightly larger and has more mechanisms than M-ATX or mini ITX form factor motherboards. You can also go for overclocking if you find yourself with that need.
This also features MSI's Mystic Light RGB LED technology to support RGB LED light strips for your PC case. This makes your rig look more aesthetic and a great thing for making others feel jealous of you. Additionally, it comes with 5-way optimization for system performance, gaming, and entertainment needs. With that, the best to talk about is its unlimited connectivity as you can see that there are multiple USB ports inside this. Plus, the motherboard also lets you fit your Graphics processor with to go for high-end gaming sessions.
Pros
Best features for ample performance
Provides facility and space for later overclocking needs
RGB lighting
Can support multiple GPUs at a time
Solid and long-lasting 
Cons
A little expensive
Larger in size than other ones 
ASUS TUF Gaming Motherboard For Ryzen 3 2200g
Staff Pick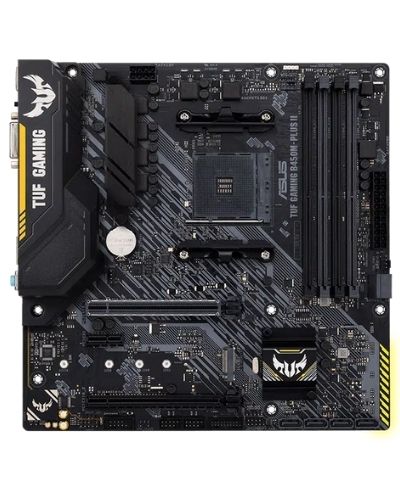 | | |
| --- | --- |
| Brand: | ASUS |
| Chipset: | AMD B450 |
| Socket: | AM4 |
| Memory: | 64GB DDR4 |
| Memory Speed: | 2666 MHz |
| Form Factor: | ATX |
Have a look at another cheap motherboard for Ryzen 3 2200g. ASUS motherboards are always great on each side as they provide features, performance, and whatever that pack demands. Therefore, we have considered this masterpiece for you. So why not take a little effort to go a little deeper in this one.
As it is important to find out whether it gives you the performance you want on a low budget or not. With AMD Ryzen processors and cut-throat pricing, the AMD B450 Chipset and B450 Motherboards offer a viable platform for gaming and gaming, and it's an unbeatable combination! This motherboard is also one of those.
You can rest assured that your Ryzen build will run like a well-oiled machine with the TUF Gaming B450M-PLUS II AMD AM4 (Ryzen 5000, 3rd Gen Ryzen microATX Gaming Motherboard. This motherboard supports AMD Ryzen 2200g processor and AMD Athlon 200g processor. You can overclock them too. This best gaming motherboard for Ryzen 3 2200g Running at a high speed, DDR4 4400(O.C.) and 2133 MHz, and included is a high-quality and high-density 256Mb BIOS Flash ROM.
This motherboard also features MSI's exclusive BIOS Flashback feature so you can easily restore the BIOS when you need to. It supports USB 3.2 Gen 2 Type-A and Type-C as well as Turbo M.2 and NVMe. These connections make you have the standard connectivity for everything you want to fit in it. Moreover, this motherboard has MSI's Audio Boost 4 with dual headphone amplifiers, Nahimic 2 technology, and ESS Sabre HiFi audio DACs. With that, this piece keeps your system cool when you're overclocking using an MSI Cooler Master heatsink.
Plus, for network connectivity, there are two LAN ports plus two USB 2.0 ports. Finally, you can control your system in style with this motherboard's RGB lighting. All in all, this is a great deal to make when you need to have a decent, solid, and powerful motherboard to fill your desires for gaming.
Pros
Best for gaming 
Micro ATX form factor for larger connectivity 
Provides Aesthetic featuring 
Great under the budget product 
BIOS can be updated easily
Cons
RAM might run at a slower speed than recommended 
Need to Update BIOS for making it compatible with 3rd generation 
MSI ProSeries ATX Motherboard For Ryzen 3 2200g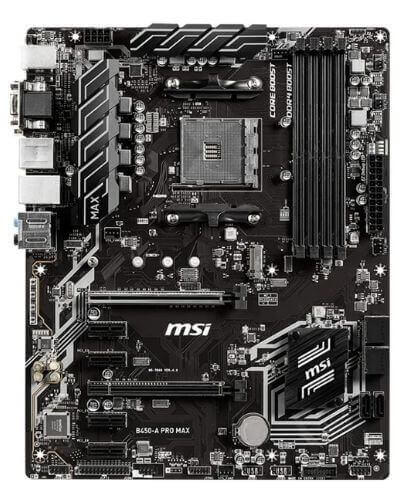 | | |
| --- | --- |
| Brand: | MSI |
| Chipset: | AMD B450 |
| Socket: | AM4 |
| Memory: | 64GB DDR4 |
| Memory Speed: | 2133 MHz |
| Form Factor: | Micro ATX |
The second last one of the best motherboards for Ryzen 3 2200g is here to become another great choice. Start making your dreams true with this AMD motherboard especially built for AMD processors. This one is also made of solid components providing long-lasting durability so that you can have it with you for a great while.
The B450-A PRO MAX from MSI is the world's first AM4 motherboard that supports 2nd and 3rd Generation AMD Ryzen PRO processors. No doubt there are others too, but this is something truly amazing. This is another best ATX motherboard for Ryzen 3 2200g that gives more space, connectivity, and performance. It is an excellent foundation for a value-oriented AM4 system for professional users in commercial and enterprise applications.
This motherboard comes equipped with a reliable, high-quality Realtek Gigabit LAN, a feature that will serve you well in business use or gaming. Its M.2 slot supports PCIe Gen3 x4 10Gbps transfer speeds for fast SSD storage, and the USB 3.1 Gen2 port supports transfer speeds of up to 10Gbps – twice as fast as its predecessor. Moreover, with support for AMD StoreMI technology, users can easily take advantage of enhanced system performance and storage capacity.
The MSI gaming software gives you a whole new look at your gaming style. With one click, you can change the style of the gaming atmosphere from dark to bright to suit the game you're currently playing. You can even customize the LED effects to match your own style or gathering. Its support for multiple processors is another blessing to consider for your best motherboard for AMD Ryzen 3 2200g processor desires. Believe us, it will be worth your money to have something like this! superior conduction cooling technology with MSI's own performance tuning software, you can take your gaming skills to a whole new level.
Pros
Providing extensive connectivity
Supporting multiple processors 
Best with solid material and body construction 
Faster memory supports up to 4133 OC
RGB with easy software control 
Cons
You might get confused with the shown color 
GIGABYTE Budget For Motherboard For Ryzen 2200g
Budget Pick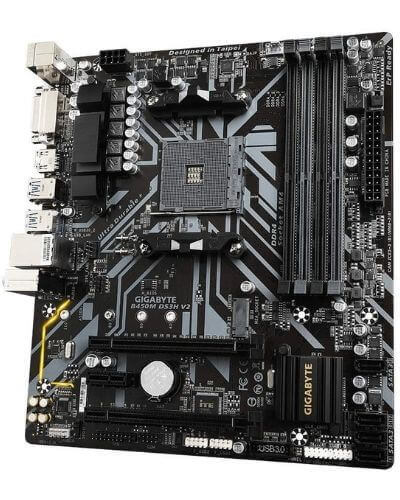 | | |
| --- | --- |
| Brand: | Gigabyte |
| Chipset: | AMD B450 |
| Socket: | AM4 |
| Memory: | 128GB DDR4 |
| Memory Speed: | 3600 MHz |
| Form Factor: | Micro ATX |
To fulfill your desires for the best motherboard for Ryzen 3 2200g, have a look at this last but never least another great product. This again from the same vendor we have already discussed is going to give you what you deserve at a meager price. The motherboard is perfect for budget builders or updating the previous one because you will find yourself safe and secure.
This best budget mobo for Ryzen 3 2200g is a great choice with loads of features and connectivity. This Micro ATX form factor motherboard is best for building a medium-performing gaming rig with more connectivity options. Whether you are an elite player or beginner, it is vital to have a motherboard that can match the performance of the AMD Ryzen processor. The GIGABYTE B450M DS3H motherboard is a great choice for your Ryzen build.
Its B450 chipset is based on AMD's 400 series technology, so it's ready to support the new Ryzen 3000 processor for the AM4 socket. This best budget motherboard for Ryzen 3 2200g with support for dual-channel DDR4 RAM of up to 3466 MHz, you can have the memory you need for intense gaming, video editing, or Photoshop work. For assuring connectivity, as it is a micro ATX motherboard, it comes with multiple RAM slots as well as SATA ports. You can also connect your GPU with this one and have some speedy game sessions.
Moreover, the motherboard also supports exclusive and faster LAN support with larger bandwidth so that you can have non-stop internet connectivity. With that, the AUDIO is also perfect which will make your gaming experience much better. Thus, why are you waiting so long? Order this masterpiece today and see what happens.
Pros
M-ATX form factor for extended connectivity
Good with budgeted Motherboard desires
Providing faster internet 
Quality AUDIO 
Solid Built and durable 
Cons
Not designed for high-end processors and working
Frequently Asked Questions
What is the best motherboard for Ryzen 3 2200g?
The Gigabyte AB350M-DS3H is best for Ryzen 3 2200g. It's the only motherboard that supports DDR4. The motherboard comes with 4 DDR4 DIMM slots. For the GPU, it uses the Ryzen APUs with Vega graphics. The motherboard comes with three PCI Express 3.0 x16 slots; two are full-length x16 slots, while the third one is an x4 slot that is full-length. The motherboard supports CrossFireX, you can put up to two graphics cards on it. The motherboard also supports up to 32GB of memory. It utilizes the A320 chipset.
Does a320m support Ryzen 3 2200g?
Yes, AMD Ryzen 3 2200G is compatible with the A320M motherboard. It is an APU but the APU is not that different from the CPU. It promises to give you very close performance as the higher-end Ryzen 5 and 7 processors for much less. Other great options for the A320M motherboard are the Intel Core i3-8100 and the i3-8300.
Is Ryzen 3 2200g worth it?
Yes, it will be worth it only when you know what you're doing. Like, if you just want to play video games on your computer, the integrated graphics of this APU are probably not ideal unless you're fine with lower graphics settings or low resolution. Plus, if you want to do any competitive gaming or high-end streaming, the integrated graphics of the Ryzen APU would not suffice. However, if you want to make a cheap little streaming box and do some light video editing and basic photo editing (nothing too crazy), you will likely be fine with this APU.
Is Ryzen 3 2200g good for gaming?
If you do not have a budget constraint, then you can choose the 8th Gen Intel i7 8700 3.2 GHz Hexa Core Processor. If you have a budget constraint then Ryzen 3 2200G Quad-Core Processor will be a good choice. In this case, as long as you pair it with a dedicated graphics card, you will be able to play all of your games without any trouble. However, if you want to play the more demanding games, the 8th Gen Intel i7 8700 3.2 GHz Hexa Core Processor will be better.
Summary:
It's too good to see you at this end of the blog post and we know that you've chosen your best motherboard for Ryzen 3 2200g. It's a great blessing when you make such a purchase after reading deeply about the effort you have done. Choosing the great and best mobo for Ryzen 3 2200g is not that difficult as you will have to enlist all the requirements you want in a particular motherboard and choose your favorite one.
Plus, in case you find yourself confused about making a decision, you can choose any product from the box given at a glance. So, this was all for today. If you have any queries to ask or information to add, please let us know. Moreover, take care of yourself, keep reading and have a nice day! We will be happy to answer you're important questions.